Residential Natural Gas:

The Pennsylvania Office of Consumer Advocate prepares and publishes a number of "Shopping Guides" for residential electricity consumers. This free information is very valuable. We strongly recommend that you click on the link below and review the information before making any decision.
Office of Consumer Advocate Shopping Guides
Pennsylvania Natural Gas Utilities:
| | |
| --- | --- |
| | Andreassi Gas Co. |
| | Chambersburg Electric and Gas |
| | Chartiers Natural Gas Co. |
| | Columbia Gas of Pennsylvania |
| | Equitable Gas Co. |
| | Honesdale Gas Co. |
| | PECO Energy |
| | Peoples Natural Gas Co. |
| | Philadelphia Gas Works |
| | PPL Gas Utilities |
| | UGI Penn Natural Gas |
| | Valley Energy |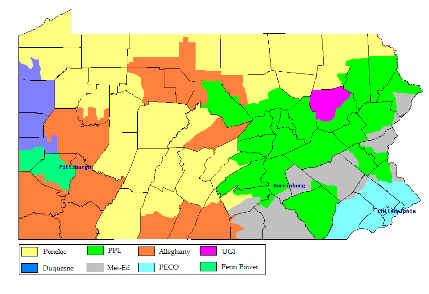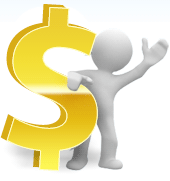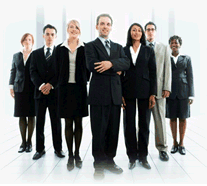 Natural Gas:

The Pennsylvania Public Utilities Commission has reformed the natural gas industry to give customers a chance to shop for lower natural gas rates. Starting in 1999, the gas utilities started a process to open their service areas to allow customers to choose a different company to supply them with their gas supply.
PECO, Columbia Gas, Dominion Peoples Gas, Equitable Gas, National Fuel Gas, Philadelphia Gas Works, UGI Central Penn Gas (PPL Gas), UGI Penn Natural Gas, UGI Utilities-Gas Division and TW Phillips Gas and Oil Co. currently offer gas choice. Customers choosing an alternate gas supplier will still have their gas supply delivered by the local utility, but customers will be buying their gas supply from a new company.

Customers can choose to receive their gas supply from their utility, or an alternate gas provider. A customer's natural gas bill has been separated into two parts:
| | |
| --- | --- |
| | Regulated distribution of gas, which is still only provided by the utility |
| | Supply of the gas commodity, which is open to competition |
If customers do not shop for an alternate gas supplier, they receive default supply service, or sales service, from their utility. Under default supply service, customers pay a supply charge composed of a "Commodity Charge" and a supply tracker called a "Gas Cost Rate" or "Gas Cost Adjustment Charge" to compensate the utility for arranging for their supply. Combined, these charges equal a "price to compare," which can be used as a benchmark to compare utility supply service and supply service from an alternate natural gas supplier.
The various components of the utility supply charge can change throughout the year, meaning customers do not have price protection and can be exposed to volatile swings in monthly prices. Customers can avoid wild swings in the gas supply charge by contracting with an alternative gas supplier.